September 20, 2011
---
I sometimes think of this Marilyn Monroe quote. "If you can make a girl laugh, you can make her do anything." If the goal of a poet is to take the language, or the reader, or the self, to someplace they have never been before, to a place where the last two words of her quote — "do anything" — can happen, humor can crowbar open the audience to 'an anything' they are resistant to imagine. If you can make people laugh, you have their attention. Those eyes and ears are beams of light. You hold mirrors. You can point them at anything. It can be at another joke. Or an unforgettable glimpse of hell. Or a gesture of universal love for all humanity. Or lyric.
Can't really get us enough Mark Leidner lately.
A Giant Triangle of Anxiety: An Interview with Mark Leidner | HTMLGIANT
19 notes
See Post tags #Mark Leidner #HTMLgiant #Marilyn Monroe #laughter

November 16, 2011
---
I had a chance to travel with Karl this weekend, as he read in Baltimore and DC. Here's the dirt: He ate pizza with chicken on it… He prefers whiskey to beer. In the morning he turned away the wrong Eggs Benedict, the ones with crabmeat. Later he didn't eat pizza but did eat a few wings…
Officially Released: NowTrends by Karl Taro Greenfeld | HTMLGIANT
32 notes
See Post tags #HTMLGIANT #Karl Taro Greenfeld #NowTrends #dirt #author gossip

January 5, 2012
---
Boudinot! An Appreciation by Aaron Burch | HTMLGIANT
And thus was Hobart #4 created… He introduced me to Laird Hunt and J Robert Lennon and Ray Vukcevich. The issue opens and closes with pieces by Aimee Bender that were inspired by a painting by Marcel Dzama featured on the cover. There's one of (I think?) Tao Lin's first stories in print. There's Stephen Elliott and Robert Lopez and Rick Moody…
I wrote a little appreciation of Ryan Boudinot that turned into a kind of history of Hobart/online lit journals and personal reflection, or something.
26 notes
See Post tags #Hobart #HTMLGIANT #Ryan Boudinot #self-promotion #Aaron Burch #J Robert Lennon #Laird Hunt #Ray Vukcevich #Aimee Bender #Marcel Dzama #Tao Lin #Stephen Elliott #Robert Lopez #Rick Moody

February 9, 2012
---
March 20, 2012
---
Typically, if I have any audience in mind at all, it is one person. Maybe the goal is less general and more specific. Like, I want one specific person to better understand me. And that one person changes.

I don't mind at all how people interpret my work. Or I haven't yet. We'll see…
(via HTMLGIANT: Noah Cicero interviews Elizabeth Ellen)
3 notes
See Post tags #elizabeth ellen #Fast Machine #HTMLGIANT

August 17, 2012
---
This is a collection about the geography of home. How we leave it; how it does not leave us; how it becomes a space we can walk around in but never belong to again. It is imbued with a palpable longing to return to a place where we are no longer needed. It's about the way we all want to return. We all want to be our parents' children again, to walk in the front door, stamping our boots from the winter chill, and be embraced, be welcomed back. Above all, this book is about the dedication right there in the beginning of the book—it reads simply, "for home."
Other Kinds Review | HTMLGIANT
First read of Dylan's upcoming book crops up! Preorder now! (Or maybe even ask kindly for one of our last few ARCs?)
December 30, 2012
---
11 Favorite Small Press Reads of 2012 | HTMLGIANT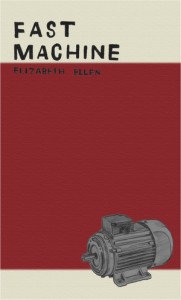 Fast Machine by Elizabeth Ellen
3 notes
See Post tags #elizabeth ellen #Fast Machine #HTMLGIANT #Roxane Gay

June 6, 2013
---
Why Did Mud Luscious Close? Getting busy with JA Tyler | HTMLGIANT
Adam Robinson: Meanwhile, what else were you doing? Probably it looked something like this: working with the designers for the next books, and trying to make big decisions there, editing the next book and trying to manage the author's feelings. Writing a press release, managing the website, the Facebook, the Twitter, which is not as easy as it sounds, once you know something about them. Every day you're probably emailing with a few people you've published about some idea or other. You're feeling stupid about the next mass email you have to send. Emailing sort-of-friends to ask what happened to that review they said they'd write. Packing up books and going to the post office three times a week. Helping an author set up a book tour. What else? And then someone emails you for an update on their submission. Sometimes it makes me laugh, when I think of how I'm doing all that, I have to track sales too. The idea of small presses being successful this way is untenable. It's laughable.
9 notes
See Post tags #Adam Robinson #JA Tyler #mud luscious press #MLP #HTMLGIANT