June 16, 2011
---
Going to have more to say about this (the photo, the article it came with, Grantland in general) later today or tomorrow but, for now… how freaking rad is this?

See Post tags #HBO #grantland #rad graphics #the wire #charts&graphs

Hobart Mini-Reviews: Grantland

Again, we've been meaning, for some time, to give the Ho' blog something of a reboot, and doing more reviews (of chapbooks, poetry, whatever other stuff we like round these parts but don't actually focus on too much with Hobart proper) has been one of our priorities. Again, we'll see if we can't stay more consistent and regular than we've been in the past.
First up, I thought I'd look at Grantland. It's a week old and maybe you're reading it and maybe you aren't. Thoughts?
Design
I like it. Its clean and simple, aspects I've especially been trying to think a lot about lately with websites. Also: I like reading it on my new iPad. That said, the "archived" stuff is kinda wonky and hard to find/navigate, no? Which made finding all this stuff a little tricky, but whatever.
Simmons' Introduction
Solid start. Reading an anecdote or two about the beginnings of Jimmy Kimmel's show was fun. This: "a quarterly publication we're doing with McSweeney's" caught me by surprise, and though I'm not 100% sure, I think I'm excited about it. I'd be more excited if they asked me to write for it. (This goes for Grantland in general. Ignore the fact that I can't actually write very interestingly about sports. I can compile stuff good though!)

See Post tags #grantland #BillSimmons #ChuckKlosterman #Mini-Reviews

July 14, 2011
---
(Nolan) Ryan called his catcher to the mound and told him to tell the hitter, "Nothing but heat." Which is something of a direct challenge in the same way that spitting in a man's face is something of an insult.

(Dick) Allen looked out at Ryan and said, "Let's get it on." A few pitches later he flew out to right, and when he jogged past the mound he smiled at Ryan and said, "You got me."

Reggie (Jackson) said nothing at all. He flew out to the leftfielder. He says it was a line drive. Ryan says it was routine.
(via A look back at Tony Kornheiser's 1980 profile of Nolan Ryan for Inside Sports magazine - Grantland)
July 21, 2011
---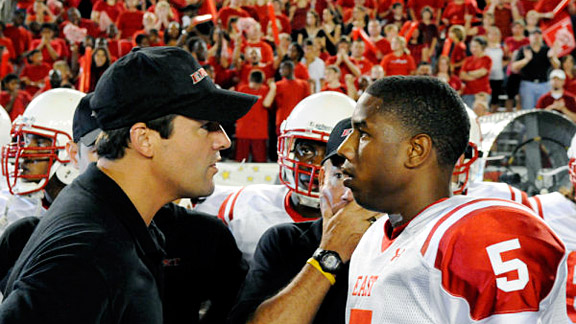 Friday Night Lights probably rates high on the 'cheesiness scale,' but I'm OK with that because I often feel uncomfortable about how cheesy many of my real emotions and feelings are.
and also this:
It is hard to say goodbye to the FNL family, but I have accepted that there will never be another season of football in Dillon, Texas. Now I'm forced to try to find another television series that will not just fill up a weekend, but provide an experience that offers me the chance to develop as a human. Can I really commit to another TV series after that vulnerable experience? I feel like I just got out of a difficult yet fulfilling long-term relationship.



(Source: grantland.com)
September 9, 2011
---
The "pre-article advisories" note (David Foster Wallace) sent to Dean along with his first draft provided a peek into his philosophy of footnotes ("the big thing is to avoid breaking footnotes over pages — it gives readers a headache") and his fiercely protective stance toward his own prose: "I've got the fucker down to like 8,400 words. Another maybe 100-200 words can come out without much problem, if need be. Cutting much more from that will cripple the piece, which I've worked hard on and feel protective of. (If you decided, for instance, that you want to run only like 5,000 words of it, I wouldn't do it — I'd settle for the Kill Fee.)"
A look back at David Foster Wallace's classic take on Roger Federer - Grantland
3 notes
See Post tags #David Foster Wallace #grantland #Roger Federer

October 3, 2011
---
Drake ~ Headlines (Official Video) from OctobersVeryOwn on Vimeo.
This description:
These new Drake songs, especially "Headlines," sound like Castlevania music chopped and screwed.
actually makes me like this song much more. (not to mention his what the? style at that crazyass dinner party [what-Lambert-describes-as-" '80s Sitcom Dadpire (grayscale, Coogi Sweater goth with club-master transition lenses)"].)
(via The "Headlines" Video: Is Drake a Vampire? - Hollywood Prospectus Blog)
October 25, 2011
---
If the Red Hot Chili Peppers acoustically covered the 12 worst Primus songs for Starbucks, it would still be (slightly) better than this.
this sentence makes me laugh
Chuck Klosterman on the release of the new Metallica and Lou Reed album - Grantland
3 notes
See Post tags #grantland #klosterman #Metallica #Lou Reed #Red Hot Chili Peppers #Primus #Starbucks

November 16, 2011
---
The significance of baseball, more than other sports, lies in the very nature of the game—slow and spread out and rambling. It's a game of history and memory, a kind of living archive.
Don DeLillo
,
as interviewed by Rafe Bartholomew in Grantland
(via
fwriction
)
(via mightyflynn)
46 notes
See Post tags #baseball #baseball lit #Don DeLillo #grantland

from
fwriction
December 20, 2011
---
…notes are like Yankee fans; not all of them are bad, but all of them are annoying.
I Would Like To Help You Get Your Show Cancelled - Hollywood Prospectus Blog
January 4, 2012
---
I've experienced no ill effects from my over-the-top Mountain Dew consumption, except that I'm kind of fat and pretty crazy and I can never sleep (even though I'm always tired). I'm sipping one right now, and it's making me temporarily invincible. I'm not gonna lie — I feel awesome. I feel more awesome than you, in all probability.
So What if Mountain Dew Can Melt Mice? - Hollywood Prospectus Blog
8 notes
See Post tags #Mountain Dew #Chuck Klosterman #Klosterman #grantland